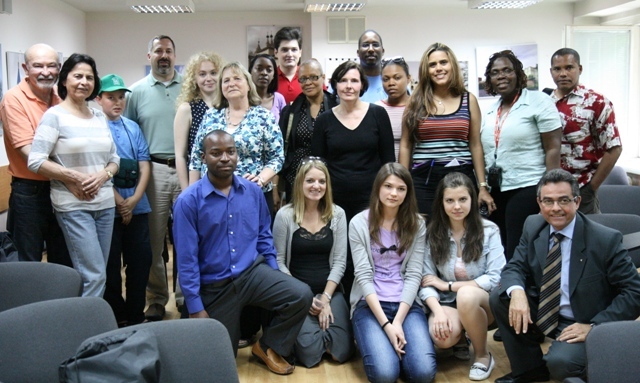 The Faculty of Foreign Languages and Area Studies at Moscow State University offers courses of General Russian to learners of all levels from Absolute Beginners through to Advanced. The philosophy of our courses is that Russian is best learned when all skills, written and oral, are combined and taught on the basis of deep background knowledge of the Russian world.
Beginners I - This course aims to help the student to acquire some knowledge of basic Russian, so that s/he can communicate with Russians, using basic vocabulary and grammar to express him/herself.
Beginners II - This course includes more advanced grammatical structures. Elementary vocabulary is expanded to further develop communicative skills.
Pre-Intermediate - This course aims to help the students enhance their knowledge of Russian Language and expand their vocabulary.
Intermediate - Students taking this course will be able to improve their knowledge of Russian grammar, expand their vocabulary and learn different styles of expression. They will become acquainted with the highlights of classical and modern Russian literature. 
Advanced - This course suits the needs of students who would like to achieve proficiency in communicative skills, to master grammar and to enrich their vocabulary. It is also for teachers of Russian as a Foreign Language who want to improve their professional competence.
All general Russian Language courses begin on the 1st of September and last through to the end of December (Fall semester). The Spring semester begins on the 07th of February and lasts through to the end of May.
In a standard course, there is a minimum of 12 and a maximum of 16 academic hours of classes per week. A typical classroom session (45-minute classroom period x 2), called "a double period", lasts 90 minutes.
Each group has a maximum of 10-12 students. Those who successfully complete their course of studies are given an official Faculty of Foreign Languages and Area Studies certificate.
---
Courses of Russian for Specific Purposes
Depending on their personal interests, students (advanced level) may choose one or more of the following courses which are usually offered:
Business Russian
Russian Cinema
Mass Media
Debating Society
Russian Customs and Traditions
Russian Poetry (intonation, phonetics and rhythm)
Introduction to Cross-cultural Communication
---
---

How to Register for a Course and Receive the Entrance Visa 
If you would like to register for a course please provide us with the following information:
Fill in an Application form. 
Send us a scanned image of your passport (the 1st and 2nd pages). 
Write the city and country where you were born. 
Write where (in which city) you would like to obtain your entrance visa. 
Write you full home address (including zip code, home and mobile phones). 
Write your full work address (including zip code, phone and fax numbers).
All this information should be sent by e-mail to Deputy Dean for International Collaboration 
Igor P. Bochkov
.
Please note that the MSU Office of International Programs requires from 45 to 60 days (sic!) to process the official invitation. It means that we have to receive the information from you no later than two and a half months before departure dates.
After the invitation is ready it will be sent to your home address by Express Mail (with delivery in 2-3 business days).
Important: you have to pay for Express Mail delivery when you receive it. 
On arrival the following documents will be required (for those who would like to register for a semester or a year course): 
Copies of school certificates and diplomas. 
2 photos (3x4 cm, black and white, no hat, no background, matt). 
Medical insurance certificate. 
Certificate of HIV-infection test negative result. 
Health Certificate (stating that you do not have any predictions to study at the university).
Tuition Fees 
One semester program cost is 130 000 RUB.
A foreign student should register no less than 12 hours a week.
---
Contact Us


Igor P. Bochkov 
Deputy Dean for International Collaboration 
Faculty of Foreign Languages And Area Studies 
Moscow State University
Russia, Moscow 119192 
Lomonosovsky Prospect 31/1 
Office 201 
Phone: (495) 932-9915 
Fax: (495) 932-8867